Our resistance bands are Made of 100% natural latex , which is durable and odorless and will not dry out, snap, or deform. Exercise bands can still be elastic after a long time, bring you a great product. 
Tube Resistance Bands:
Yellow (10 lbs), Green (15 lbs), Red (20 lbs), Blue (25 lbs), Black(30 lbs), all exercise bands are 48" in length, and can be used alone or stacked in any combination to a maximum equivalent of 100 lbs. In addition, this set comes with 1 door anchor, 2 cushioned handles, 2 ankle straps, 1 workout guide and 1 carry bag.
Train Anytime & Anywhere:
Not enough time to go to your local gym every day? With this set of resistance bands, you can enjoy a full body workout without even stepping out of your home. The Fitness pull rope comes with a storage bag, light weight and takes little space. You can doing exercise in anytime and anywhere at home, to gym, office or even take it on your trip. With it you can do resistance band workouts wherever you go!
Ideal For Any Fitness Level:
Whether you are a beginner or a professional athlete, you can find the suitable intensity of your workout, This exercise stretch fitness is an excellent choice for people who are inconvenient to go out but love sports.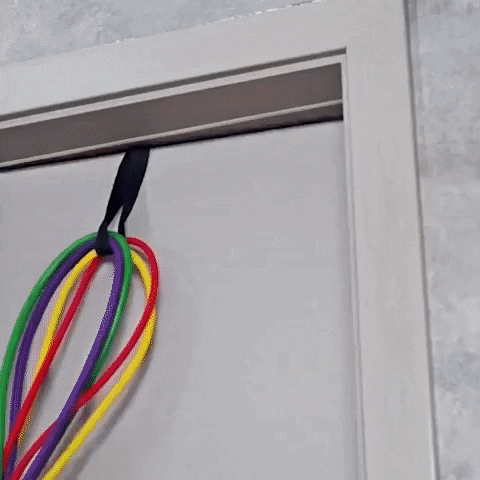 Suitable For Kinds Of Exercise:
The resistant band assists you in different exercises and is suitable for a variety of exercise including; P90x, Cross Fit, Yoga, Insanity, Pilates, Hot Yoga, and Beach Body workouts. We highly recommend our booty band to help you get a great body shape.
High Quality Materials:
It is made of the highest quality & eco-friendly TPE which is extremely durable, and bands will maintain their resistance for a long time. Each tube band are double layered & carefully constructed to provide maximum resistance.
Package Include:
5PCS Exercise bands

2PCS Cushioned Handles

2PCS Ankle Straps

1PCS Door Anchor

1PCS Carry Bag